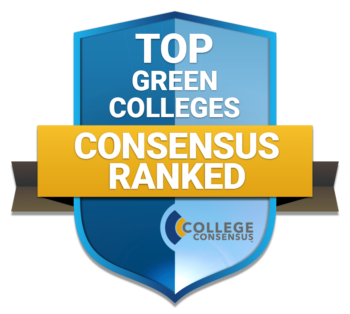 College Consensus has ranked Syracuse University 8th in its listing of the Top 25 Best Green Colleges in the United States.
For the purpose of developing the Green Colleges list, College Consensus partnered with the Environmental Protection Agency's Green Power Partnership to recognize higher education institutions that have committed to green energy.
College Consensus praised SU: "The university is regularly recognized as a leader in areas like law, business, and public policy, both in teaching and research, and all of those strengths contribute to Syracuse's status as one of the best green colleges in the U.S. As one of the most eco-friendly colleges and one of the most sustainable campuses in America, Syracuse is a leader and a model."
The University has gained recognition over the years as one of the biggest purchasers of green energy in New York state and the Northeast. Thirty-five percent of the energy used on campus is from renewable sources and in line with the University's goal on campus to become climate neutral by 2040.
In addition, sustainability has been integrated into the curriculum, with offerings of majors and minors in areas like energy, food studies and environmental science.
Furthering research on campus, the Campus as a Lab for Sustainability (CALS) program offers $75,000 in funding for academic research, student projects and course development that can further engage the campus in addressing climate change and sustainable systems.
To learn more about sustainability on campus, visit sustainability.syr.edu.
Following is the full list of the 25 Best Green Colleges in the United States:
University of Pennsylvania
Northwestern University
Georgetown University
University of Wisconsin-Madison
Carnegie Mellon University
Ohio State University (main campus)
American University
Syracuse University
University of Oklahoma-Norman
University of Minnesota-Twin Cities
University of Maryland-College Park
George Washington University
University of Missouri-Columbia
Oklahoma State University (main campus)
Western Washington University
Ohio University (main campus)
University of Vermont
University of Tennessee-Knoxville
Arizona State University-Tempe
University of New Hampshire (main campus)
Catholic University of America
University at Buffalo
Drexel University
University of South Florida (main campus)
Temple University