Architecture's Francisco Sanin to Join International Panel at Upcoming United Nations Event
On May 19, at the United Nations Headquarters in New York City, School of Architecture Professor Francisco Sanin will join a highly respected gathering of leading thinkers from around the globe as a panelist at the "Gateway Portals to the City" conference.
The high profile event is organized by the Consortium for Sustainable Urbanization, in partnership with UN-Habitat NY and AIA NY. Stakeholders from government and private sectors, the United Nations network, and other international organizations will engage in dialogue regarding the critical role of sustainable infrastructure and city portals in urban transformation.
Among the many notables participating in this event will be H.E. Antonio Guterres, United Nations Secretary General; H.E. Peter Thomson, president, United Nations General Assembly; and Dr. Joan Clos, Under-Secretary General and Executive Director, United Nations Human Settlements Program (UN-Habitat).
Professor Sanin will participate in a special case study session and provide expertise on the recent transformation of Medellin, Colombia. "It's an honor to participate in this forum," says Sanin. "The conference will explore case studies from around the world that go beyond the more traditional view of infrastructure, i.e. bridges and roads. The case of Medellin represents a more comprehensive understanding, one that includes social and political elements—schools, hospitals, markets, public spaces, etc."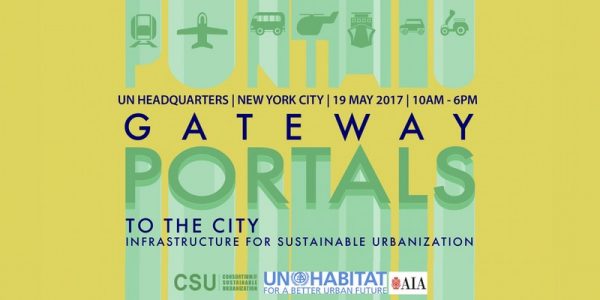 The City of Medellin recommended Sanin's selection as a panelist to represent "their story" at this event. Sanin was born and educated in Medellin, receiving his architectural diploma from the Universidad Pontificia Bolivariana. Of much greater significance, however, is the impact Sanin has had on Medellin's dramatic transformation over the last few decades. Sanin has visited the city regularly to conduct workshops and seminars on urban design, led research on the city's urban strategies—many resulting in development and becoming a road map for future transformative efforts. He has worked closely with Sergio Fajardo—currently governor of the state of Antioquia in Colombia, and former mayor of Medellin—in developing projects at the city and state level.
It is worth remembering that, in the late 1980s and 90s, Medellin was considered one of the most, if not the most, dangerous cities in the world. In recent years, Medellin has become recognized internationally for its urban and social transformation. It has won several international urban design prizes. In 2016, Medellin won the coveted Lee Kuan Yew World City Prize in Singapore as the most innovative urban transformation in the world. In December 2016, "60 Minutes "on CBS aired a special feature, "How Unconventional Thinking Transformed a War-Torn Colombia," including an interview with Fajardo and examples of how strategic, comprehensive changes to infrastructure brought the city back to life.
Says Sanin, "Infrastructure can become a crucial tool of urban transformation. This conference represents a recognition of that and will be a forum to exchange the experience of Medellin with others from around the world."
Professor Francisco Sanin is internationally known as an urban designer, noted for his extensive research in the history and theory of urban form. He is a practicing architect with work in several countries. He has received numerous awards in architectural competitions and has lectured, curated exhibitions, and published internationally. He was director of the Syracuse University Architecture program in London from 2014-2016, chair of the school's graduate program from 2010-2013, and director of the Syracuse Architecture Florence program from 2005-2008. He has previously taught at Princeton, the Architectural Association School of Architecture in London, Kingston and Greenwich Universities in the UK, and the University of Oregon School of Architecture and Allied Arts. He has been a visiting professor in schools around the world, including the Korean National University of Arts, Universidad Simon Bolivar in Caracas, UPB in Medellin, Colombia, and Miami University.